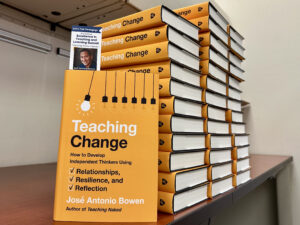 The Good Reads Initiative is a community book read program designed to stimulate healthy campus dialogue. This year's book is Teaching Change: How to Develop Independent Thinkers Using Relationships, Resilience, and Reflection. The author, José Antonio Bowen, also happens to be this year's keynote speaker at TCNJ's 2nd Annual Excellence in Teaching and Learning Summit on February 16, 2023. We are delighted to be able to bring Dr. Bowen to campus and also coordinate our Good Reads Initiative on Teaching Change.
Books are distributed in December 2022, and in March 2023 CETL and TLC will host small group book chats for discussion and reflection. There is no cost to you—books are provided to anyone interested in participating in the Good Reads program. Sign up and indicate your preferred format (print or digital).
As in past years, we will seek to accommodate book requests into the new year. However, you are strongly encouraged to request and secure your book prior to December 21, 2022.
Participants who request a print version will be notified by email when their copy is ready for pickup in Green Hall Room 201, and a pick up schedule will be provided.
From the publisher, Johns Hopkins University Press:
Learning something new—particularly something that might change your mind—is much more difficult than most teachers think. Because people think with their emotions and are influenced by their communities and social groups, humans tend to ignore new information unless it fits their existing worldview. Thus facts alone, even if discussed in detail, typically fail to open minds and create change. In a world in need of graduates who can adapt to new information and situations, we need to renew our educational commitment to producing flexible and independent thinkers.
In Teaching Change, José Antonio Bowen argues that education needs to be redesigned to take into account how human thinking, behaviors, bias, and change really work. Drawing on new research, Bowen explores how we can create better conditions for learning that focus less on teachers and content and more on students and process. He also examines student psychology, history, assumptions, anxiety, and bias and advocates for education to focus on a new 3Rs—relationships, resilience, and reflection. Finally, he suggests explicit learning designs to foster the ability to think for yourself.
The case for a liberal (by which Bowen means liberating) education has never been stronger, but, he says, it needs to be redesigned to achieve the goal of creating lifelong learners and citizens capable of divergent and independent thinking. With an expansive and powerful argument, Teaching Change combines elegant and gripping explanations of recent and wide-ranging research from biology, economics, education, and neuroscience with hundreds of practical suggestions for individual teachers.